7-Night Trip
on
Royal Clipper
Voiles de St. Tropez

Per Person
+ $270.00 taxes/fees
September 24, 2022
through
October 01, 2022
Book by:
September 18, 2022 7:00 PM
Inside
Outside
Balcony
Suite

$2,000.00




Cat: Category 6




$285.71 per night

$2,110.00




Cat: Category 5




$301.43 per night

N/A

$3,860.00




Cat: Deluxe Suite with Veranda




$551.43 per night

More Pricing Information
Itinerary Map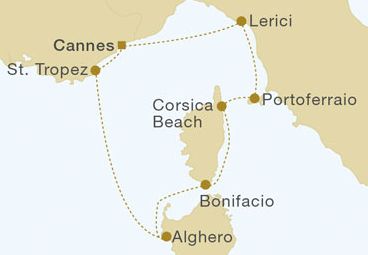 East Corsica (beach), France
Alghero, Sardinia - Italy
Loading Itinerary Content...
Inspired by the tall ship Preussen, the Royal Clipper has the proud distinction of being the largest and only five-masted full-rigged sailing ship built since her predecessor was launched at the beginning of the last century. With her complement of 42 sails, Royal Clipper is a splendid sight to behold.

You might think she was an apparition from the grand age of sail, but Royal Clipper is as new as tomorrow, boasting state-of-the-art navigation systems and every comfort and luxury one could wish for. For connoisseurs of sail cruising, the 439 foot Royal Clipper offers the ultimate sea-going experience, balancing the grandeur, adventure and tradition of sailing with the superb service, amenities and accommodations of the finest modern yacht. Royal Clipper carries just 227 guests in luxurious style. A full 19,000 square feet of open deck and three swimming pools create a wonderfully spacious and expansive outdoor environment.

Find your secret hideaway on one of the hidden balconies on either side of the bow. Or climb the mast (with safety harness provided) to one of the passenger lookout crows-nests, thoughtfully furnished with a comfortable settee, where you'll have the grandest view of all!

Royal Clipper's interior spaces are just as dazzling. They include a three-deck atrium that funnels sunlight into the elegantly appointed, three-level dining room featuring open-seating dining, deliciously prepared cuisine and a no-tie dress code.

A convenient marina platform lowers from the stern for watersports. And the ultimate unique Royal Clipper experience, the one-of-a-kind Captain Nemo Lounge, is the site of our spa and health club with underwater glass portholes!

Ship's Registry
Luxembourg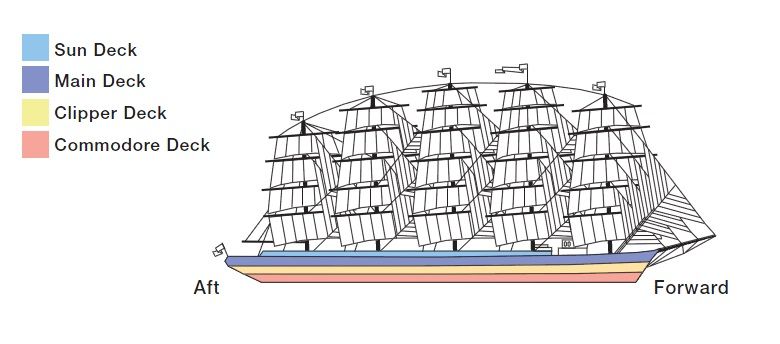 | | | |
| --- | --- | --- |
| Owner's Suite | Owner's Suite | $4,820.00 USD |
| Deluxe Suite with Veranda | Deluxe Suite | $3,860.00 USD |
| Category 1 | Category 1 - Deluxe Outside Deck Stateroom | $3,000.00 USD |
| Category 2 | Category 2 - Superior Outside Stateroom | $2,690.00 USD |
| Category 3 | Category 3 - Outside Stateroom | $2,540.00 USD |
| Category 4 | Category 4 - Outside Stateroom | $2,410.00 USD |
| Category 5 | Category 5 - Outside Stateroom | $2,110.00 USD |
| Category 6 | Category 6 - Inside Stateroom | $2,000.00 USD |
| | |
| --- | --- |
| | Third berth |
| | Fixed double bed |
| | Single berth |
Deck plans are not yet available
About Star Clippers

Since 1991 Star Clippers Ltd. has offered sophisticated travelers the ultimate cruising vacation alternative – a tall ship "mega-yacht" experience aboard authentic re-creations of the classic sailing clipper ships that ruled the waves during the 19th century.

The brainchild of Swedish entrepreneur, Mikael Krafft, Star Clippers operates three of the largest barquentine and full-rigged sailing ships in the world. Star Clipper, Star Flyer and flagship, Royal Clipper are a triumvirate of four and five-masted sailing ships that offer the activities, amenities and atmosphere of a private yacht at a price which is often less than one would pay on a large, mass-marketed cruise ship. With Star Clippers, Mikael Krafft has realized his lifelong dream to provide a unique sailing experience for his passengers in full harmony with the environment, the sea and often away from ports congested with tourists.